As a long-time Intel Partner, Webservio understands the need for seamless McAfee SaaS migrations to other spam and virus filtering solutions.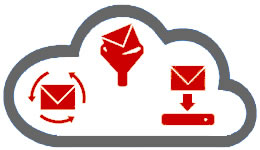 Our staff has prepared for the McAfee SaaS End of Life by developing and incorporating a set of procedures to ensure your McAfee SaaS transition is a smooth, worry-free process.
Webservio's McAfee SaaS Migration Process
Click here to contact us about your McAfee SaaS migration.
Our staff will research your current McAfee SaaS settings, communicate their findings, and request your verification. You will also be asked about filtering features your organization requires or wishes to include in any new filtering service.
A consultant will recommend several new filtering solutions best suited to meet your specific criteria.
During the decision-making process, our friendly consultants can provide pricing information, online demonstrations, data sheets, and links to more information about each recommended filtering service.
When a decision is reached, a technical engineer will seamlessly migrate your current McAfee SaaS settings into the new service.
You will receive a technical support sheet with access information and MX record updates for the new filtering service.
You choose when to activate the new service.
McAfee SaaS Seamlessly Migrated Features
Users
Aliases
Distribution Lists
Domains
Individual & Global Approved and Blocked Senders
Inbound & Outbound Mail Server IP Addresses